Team D
"Nagoya-Ka" DELTA
"Sasashima Live 24" area in Nagoya city, in terms of city planning, eco-lifestyle, sustainable architecture, eco-products, car-sharing, and art & design center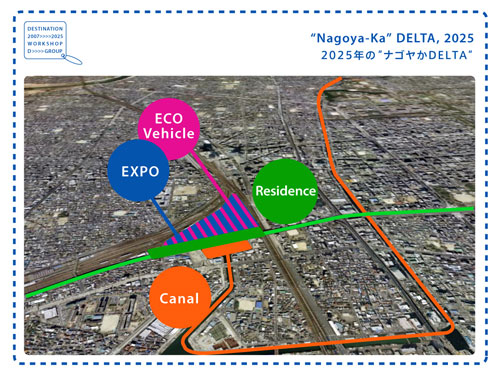 Keywords: "Nagoya-Ka" DELTA, Transportation and Leisure Canal, Highway Residences, Multidiscipline EXPO Space, Experience Eco Products,
"Nagoya-Ka" DELTA In order to focus on the theme of "2025 sustainability society", our team proposal of developing "Sasashima Live 24" area into a sustainable urban area through the use of various local and sustainable resources. The reason why we chose "Sasashima Live 24" because the city of Nagoya already has a plan for it to be developed into an international business center by 2015. Therefore, Sasashima is an ideal place where our ideas could be incorporated. We also would like Sasashima to become a central part of Nagoya city with international business area, where a lot of tourist from inside the country and abroad can come with ease.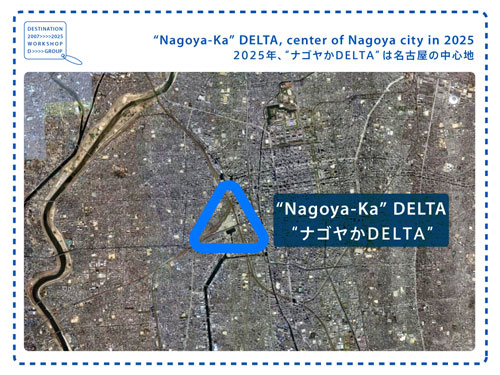 As part of our plan we re-named this place as "Nagoya- Ka" DELTA. "Nagoyaka" in Japanese means welcoming, amiable, or relaxed social place. Sasashima area is the end of a canal which goes throughout the Nagoya city. We named it delta because it will incorporate the elements of Creator, Consumer and Company. Also to think about sustainable society in the future, we felt a need for unused spaces and/or areas be exploited for some beneficial use. Here are some examples which we propose to Nagoya city/government.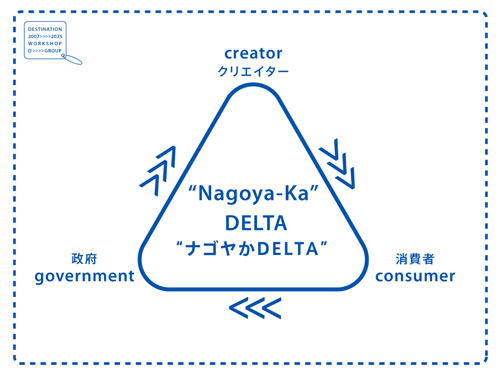 Highway Residences - Atelier and residential district will be used at low cost by local and visiting artists and designers. The cost of residences will be subsidized by local government and industry as part of a redevelopment and revitalization plan. - Innovative architecture and eco-lifestyle makes "Nagoya- Ka" DELTA a destination area for visitors. - Effective utilization of currently "wasted" space under the highway. - Eco-friendly, no-noise, under highway residences and Atelier created by an international architecture competition. - Competition for architects by theme of sustainable architecture accommodation. The competition aims to attract more attention to the area and our plan.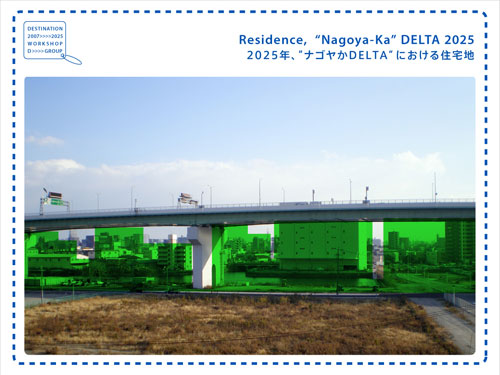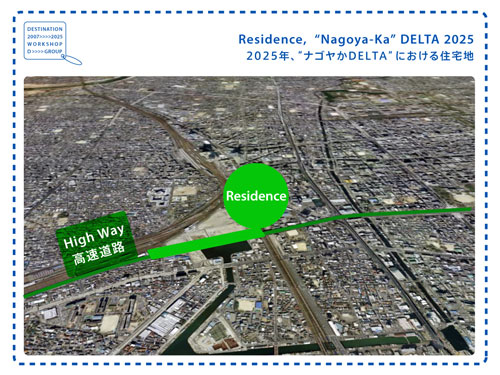 Transportation and Leisure Canal - Effective utilization of old Nagoya canal. - A new way of sightseeing and transportation in Nagoya city. - "Nagoya-Ka" DELTA will be the final destination of a leisure boat tour. - "Nagoya-Ka" DELTA boats will be zero pollution by having a system of cleaning the canal water. - Canal provides transportation for downtown citizens who live in the area and will revitalize the local economy at points along the canal.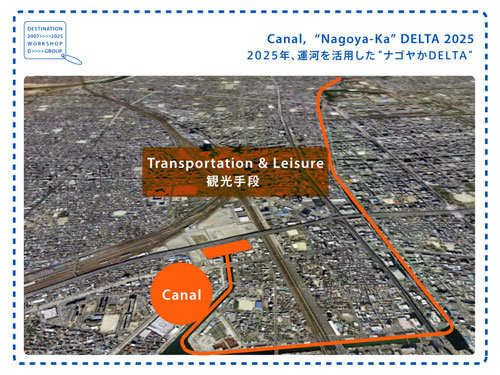 Experience Eco Products - A Gallery tour where visitors use the latest eco or clean vehicles for transport. - Visitors experience the technologically advanced products that are not yet available to regular consumers. - Visitors and residents from Nagoya city can experience and test car-sharing free of charge.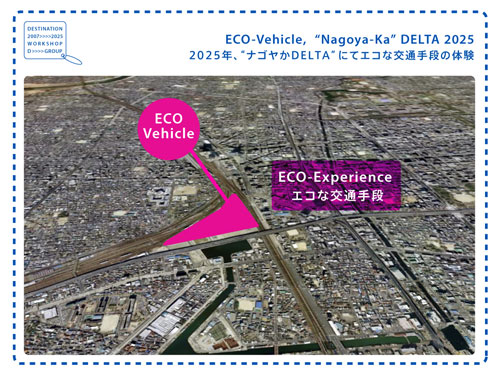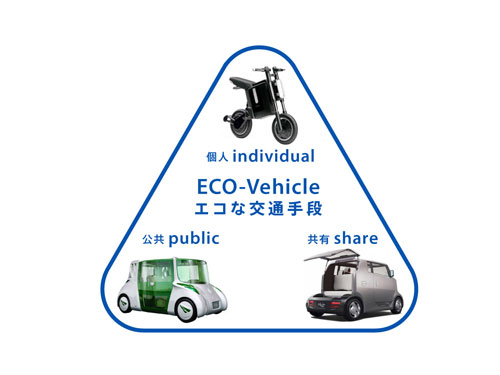 Multidiscipline EXPO Space - An extensive exhibit space for up and coming Artists and Designers. - Promotion space for companies that produce eco products and services. - Connections between businesses that are developing sustainable output will stimulate "Nagoya-Ka" DELTA both economically and socially. - A place for companies and artists/designers to share and exchange ideas. Companies have the opportunity to sponsor or collaborate with artists and designers whose work they are interested in. - Venue for seminars and workshops on sustainable issues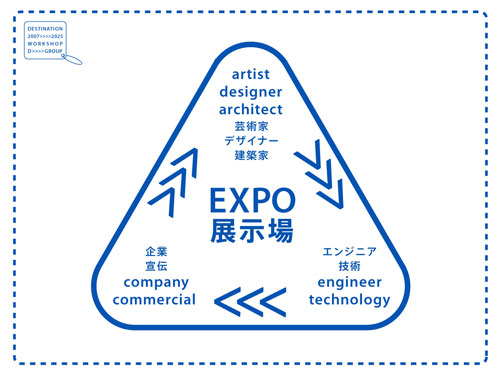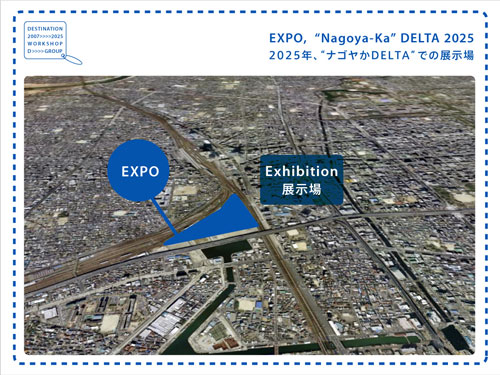 As an art community,"Nagoya-Ka" DELTA will be where people come, not only from within the country but from across the sea, and help enhance the value of the local companies and the quality of life of the community residents. Meanwhile, visitors will experience sustainable life challenges in the community and will be inspired by cultural and spiritual values they ensure. However, in order to create the kind of these communities, both financial and practical support by the government is essential. We sincerely hope that our government and society will be an incubator for creative culture and will help to support the art market.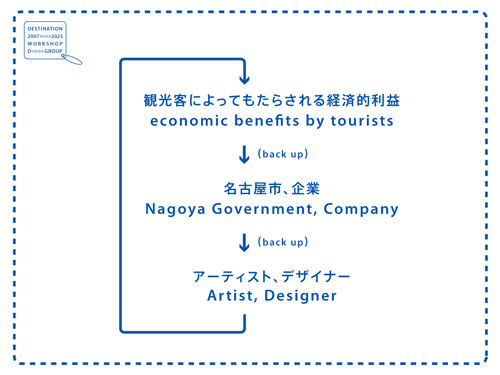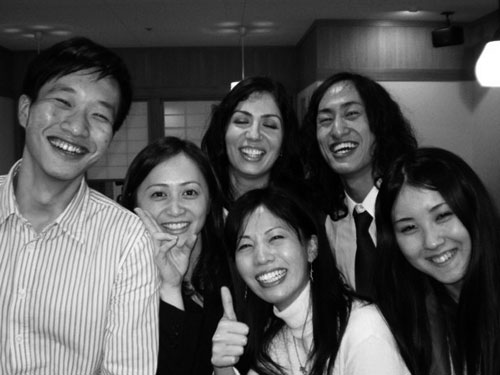 Member