Team B
Sustainable Condominium Hotel
Enjoy a sustainable way of life at our condominium hotel
Even if we understand that it is better to mend our ways in daily life for the sake of sustainability, it is not so easy for us to actually do it. Therefore, we propose to create a condominium hotel where people will be able to temporarily experience and practice a sustainable way of life, and are also able to share sustainable lifestyles and experiences that can be easily incorporated into a person's ordinary life.
Keywords: Trade-off, Work sharing, Work life in balance, Local production for local consumption, Take a lesson from the past, Enjoy
Research At the Eco Products Exhibition in Tokyo, one of our fieldwork venues, we saw technologies and products that generate/produce new energy and resources by exploiting human movement and activities. We were interested in a variety of the exhibits including recycling technologies and approaches such as Sakiori, a traditional Japanese technique of rag weaving, and the recycling/transforming of aluminum cans into roofing tiles. The exhibition offered us an opportunity to become aware of how sustainable design, not only has to do with being eco-friendly, but also provides opportunities to reevaluate and pass down traditional goods/techniques that are already found in our immediate surroundings and happen to be eco-friendly to future generations.
Findings for 2025 Sustainability Society Our vision for 2025 We imagine that the society in 2025 will have begun to maintain a sustainable balance. People will be eager to lead a sustainable lifestyle, and will want to enjoy more sustainability in their daily lives. The way we work will change due to the emergence of a society based on the ubiquity of networks. This social metamorphosis will change the traditional way that gigantic buildings are placed in the central area of a city, and therefore provide opportunities for new uses and increased value to be explored.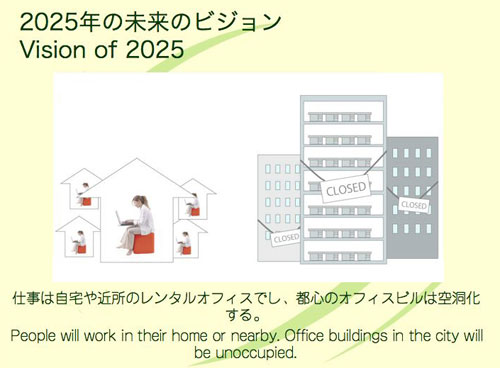 A vision of 2025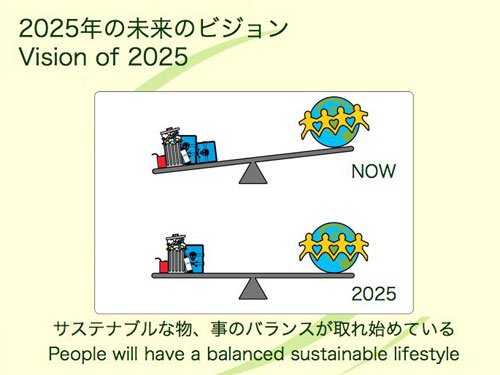 Working style of 2025
Findings The roles of the condominium hotel Our condominium hotel will have three roles; the first will be to create a venue where people can temporarily experience and lead a sustainable way of life so that they are encouraged to practice a similar way of life at home. The second is that our hotel facilitates will strive to integrate sustainable living styles and a sense of value into people's daily activities. Thirdly, it aims to advocate a clear commitment to sustainability in our society.
Location It is our hope that in 2025 the city of Nagoya will take the initiative, both in the manufacture of sustainable products and in the dissemination of information about sustainability for the sake of generations to come. This is why we targeted the international Design Center in the Nadya Park, the center for design promotion, as the most appropriate location for our condominium hotel.

A sustainable condominium hotel which reused a building unoccupied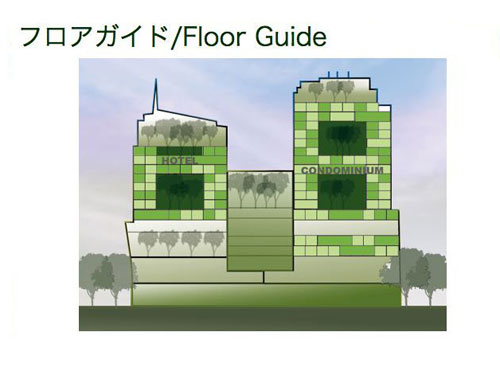 The programs of the condominium hotel Our condominium hotel will accommodate three kinds of facilities: an ordinary hotel, a condo hotel, and the spaces where people conduct social activities. The ethos of this condominium hotel will be defined by work sharing and local production for local consumption. Electricity will be generated and water will be purified using the power our visitors create when riding various fitness exercise machines and by the vibrational motions they make while walking. The daily necessities such as food and clothing will be produced/supplied thanks to a variety of social activities that our visitors are committed to. For example, they will grow vegetables in a field at the hotel site, and they will make clothes employing the Sakiori technique.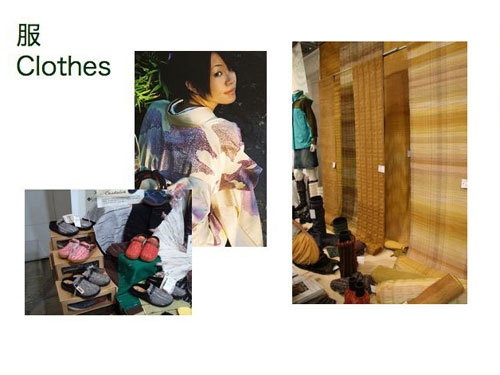 People use clothes recycled by traditional techniques.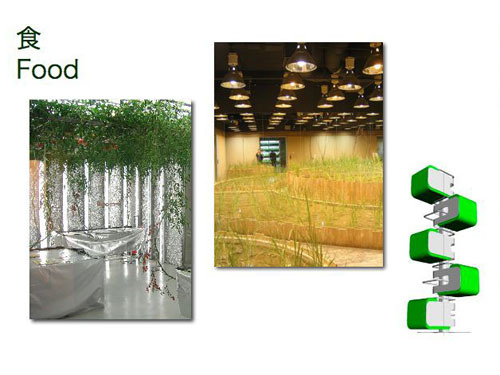 People work at an indoor farm and eat vegetables harvested there.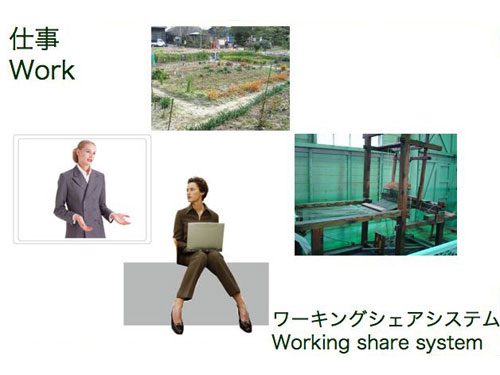 the usual times, and work to do the sustainable life.
Visitors will receive rewards for engaging in these social activities. A card named "Energy charge card" will allow them to gather their reward points as a new type of currency. They will be able to make purchases and pay their accommodation expense at the hotel using these reward points. We conceived of this plan in hope of narrowing economic disparities and giving the greatest number of people the opportunity to stay at our hotel. Also, their participation in the whole series of social activities will be beneficial because it will allow for the dissemination/inheritance of skills/techniques and cultures.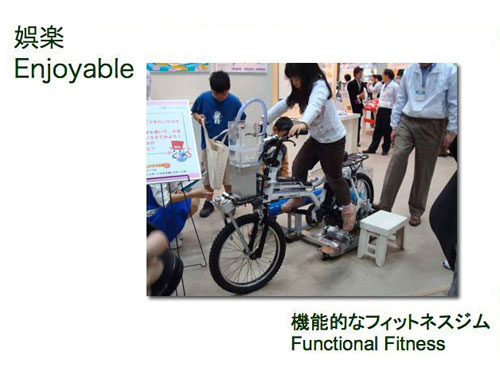 This hotel generates electricity and purified water by exercise at a fitness gym and vibration in daily life.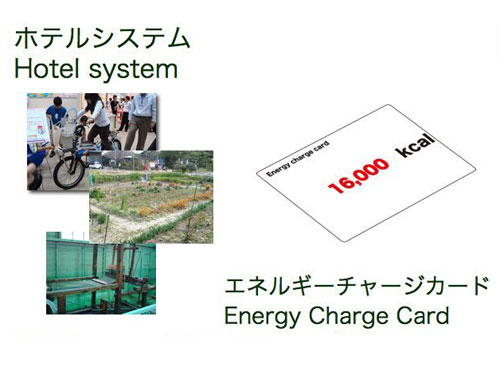 A money system to barter energy and the things produced by an individual for daily necessities
Face-to-face communication will be essential to all the visitors in our hotel. Therefore, we will prepare many public spaces where they can share and interact with each other. Each of the rooms on a floor will be partitioned by easily removable walls similar to Fusuma sliding doors found in the Japanese-style houses. This will make rooms scalable and the system will be able to respond to the needs of our visitors which are likely to vary depending on the different experiences that they happen to have. There will also be a resident consultant responsible for giving advice about how visitors can incorporate the sustainable experiences that they have had at the hotel into their daily lives at home.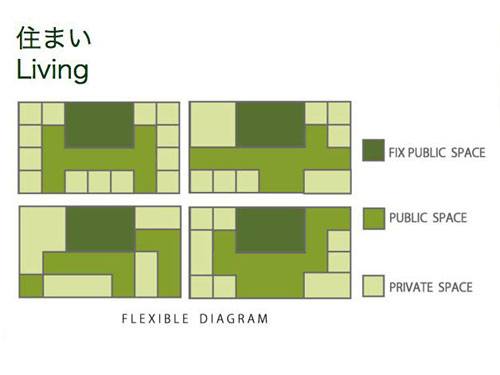 Flexible living system
Conclusion We are convinced that the realization of a sustainable society requires people's active involvement. Exchange of information and experiences will facilitate sharing of both lifestyle and community. In the meanwhile, prosperity will pervade every part of society, thanks to the presence of our hotel and the efforts of our visitors. Thus, people everywhere will be glad to seek a balanced, sustainable lifestyle rather than a lifestyle based on trade-offs.
Our team participated in the workshop and tried to make a proposal using "enjoy" as our keyword. We feel that the term "enjoy" is a good keyword and that it rises above the times and encourages us to be actively involved in the pursuit of sustainability. We firmly believe that conveying an enjoyable, sustainable way of life through the power of design will serve as a foundation for creating sustainable society.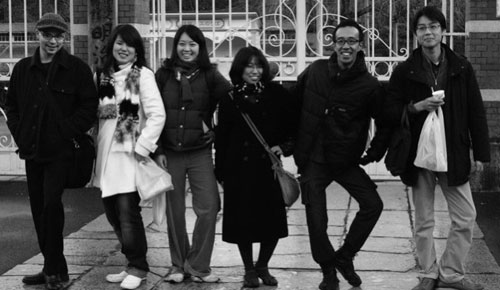 Member