Team A
Sustainable Garbage Station
Refuse recycling stations facilitate the creation of a sustainable society in 2025
We will vitally need to realize a dematerialized world by grasping the essence of "basic human needs", a viable indicator of the ability to attain a sustainable society in 2025. Therefore, we pursued "sustainable recycling stations" by examining the flow of refuse disposal.

Elements for sustainable society and human needs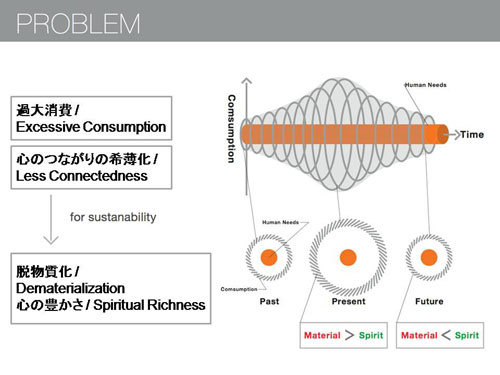 Formulation of society serving dematerialization and spiritual richness based on human needs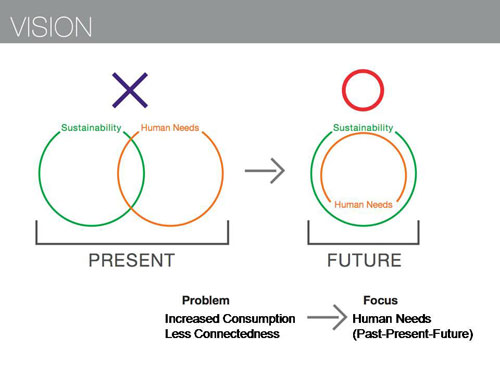 A concept of sustainable society serving human needs
Keywords: Sustainable society, Spiritual richness, Modal shift, Dematerialization, Waste management, Recycle/reuse
Research We now confront problems such as environmental destruction due to mass disposal of waste and the loss of community connectedness. To attain a sustainable society, it is necessary for us to pursue spiritual richness as well as dematerialization: a turnabout from producing materials to creating values. We focused on basic human needs from which people can feel spiritual richness, and we studied how these needs relate to sustainability. First of all, we conducted fieldwork at the Eco-products exhibition and Kagaku-Miraikan National Museum of Emerging Science and Innovation where we tried to find essential elements for sustainable society that can be found in technologies and products. We also visited Meiji-mura and Shirakawago villages to figure out which human needs are consistent across all the ages and lifestyles.

Field research for human needs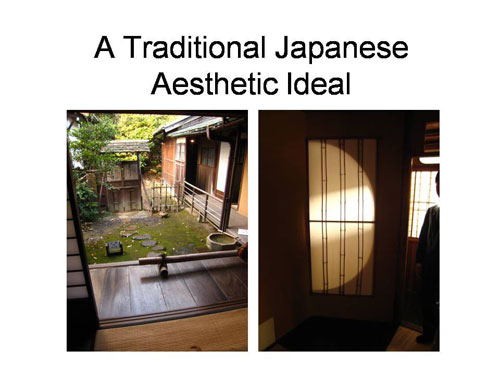 A traditional Japanese aesthetic ideal in Meiji-mura
Findings and proposal Our fieldwork experience highlighted various concerns including the promotion of more environmentally friendly technologies, resource saving, the enhancement of communication in local communities, and the reevaluation of traditional Japanese aesthetic ideals such as "mottainai" and "iki". We have extracted elements from these themes that can be used to help achieve a sustainable society and one that consists of sharing, efficiency enhancement, reuse/recycling and responsibility. On the other hand, we have identified and intend to use elements of human needs including the traditional Japanese aesthetic ideals such as "tsu" and "iki", comfort, connectedness and communication. If the previously mentioned elements included in both categories are needed for the realization of a sustainable society, then the basic set of human needs we envision in our proposal should be within the scope of the essential elements that support sustainability.
We decided to focus on the flow of waste and its disposal: an issue that is critical to the successful development of a sustainable society. The proposed "refuse recycling stations" will epitomize how future societies can secure elements in both categories described above. For the year 2025, we envision the creation of urban communities; each of which has a railway station and a community of people living in close proximity to the station. A waste disposal facility will be built adjacent to each railway station in order to achieve greater efficiency in transportation. Our proposal is to formulate a system to more effectively move refuse, by fusing railway stations with a waste disposal facility.
It is our hope that in 2025 the negative associations with refuse will disappear; instead, refuse will become an icon, and have a positive image. It will be thought of as a "resource", thanks to the cultivation of the unique Japanese spirit of "tsu" or "iki" and the promotion of nationwide environmental education. Therefore the public will welcome a waste disposal station that is located adjacent to the local railway station. Reusing or sharing of refuse resources will be generally acknowledged and accepted as one of newly born aesthetic ideals that share the values of "iki" and "tsu". Discarded items will be used and shared at a "refuse resource sharing shop" that is located at every station. Also, as compensation for an individual's segregation of garbage waste, one will be entitled to use a cafe in the community and enjoy chatting with neighbors who also cooperate to separate garbage. The waste collected at a refuse recycling station will be transported to a larger recycling center by train during off-peak hours, and will be processed to make new recyclable and recycled resources. We hope that this system will bring about shift in the image of waste so that it can be seen as "resource" that contributes to the promotion of sustainable practices such as modal shift, minimizing the need for disposal, recycling/reuse. This opportunity for communication will satisfy high-priority human needs and result in a system that supports a sustainable society.。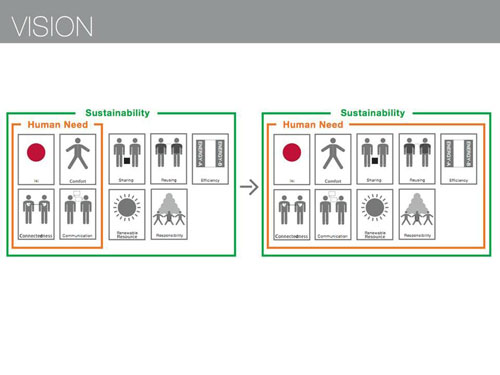 Vision that human needs contain essential elements for sustainable society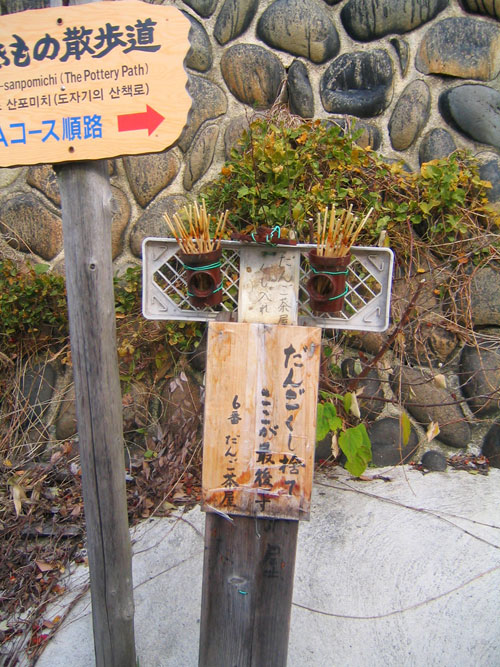 A user-friendly garbage dump in Tokoname-shi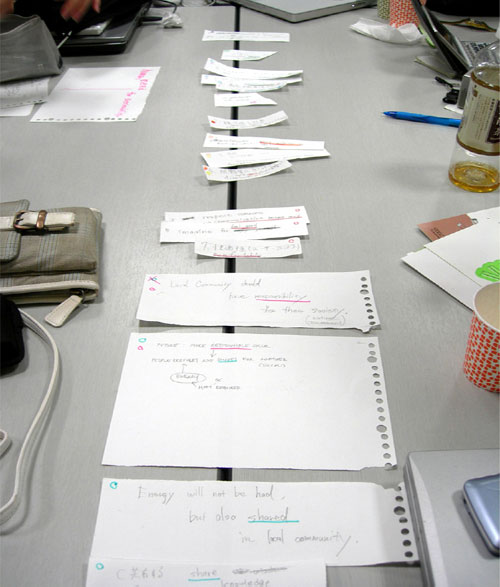 Conclusion In order to build a sustainable society that promotes dematerialization and affords us spiritual richness, we proposed "sustainable refuse stations" as an improved system for the flow of waste that supports elements for sustainability, which we had identified as basic human needs during fieldwork research. A summery of how our workshop output and proposal will be beneficial to a sustainable society is noted below.
From our fieldwork research, we identified what we consider to be the essential elements for the creation of sustainable society such as sharing, efficiency, reuse and responsibility, and those basic human needs that include the traditional Japanese aesthetic ideals, comfort, connectedness and communication.
"Sustainable refuse disposal stations" were proposed and are based on the elements listed above. They will play a role in the creation of a low-carbon, recycle-based society that encourages modal shift from road to rail, promotes recycling/reuse and provides places for communication, and contributes to facilitating communication and community participation.
"Sustainable refuse disposal stations" can be represented as a place in which those living in sustainable urban communities, each of which has a railway station, are keenly aware of environmental preservation, care for each other and feel well-connected. Our proposal thus envisions a system that will support the creation of sustainable society.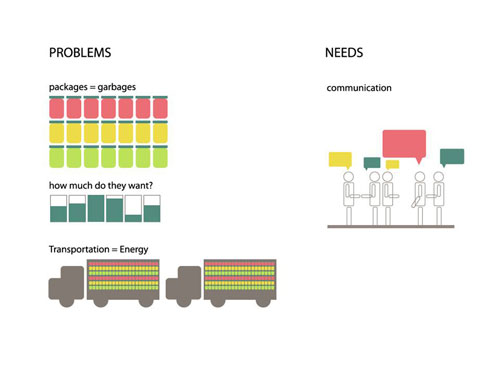 a. Consideration of problems and added value of containers for drinking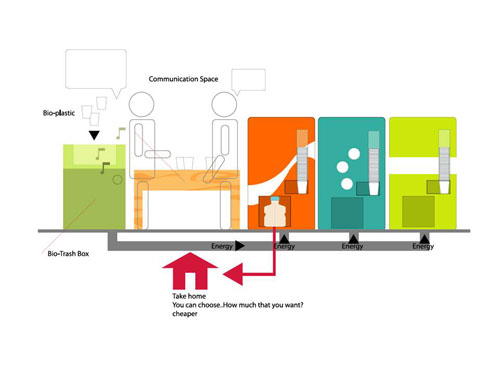 b. Consideration of vending machine providing opportunities to communicat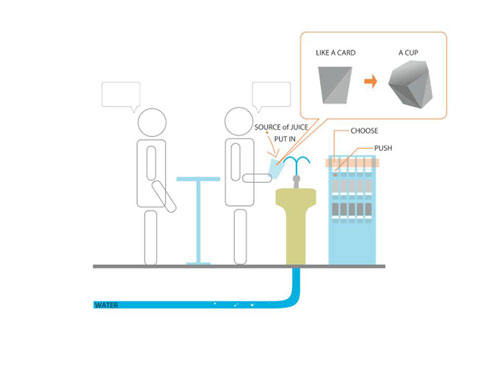 c. Consideration to reduce the total amount of garbage about drinking water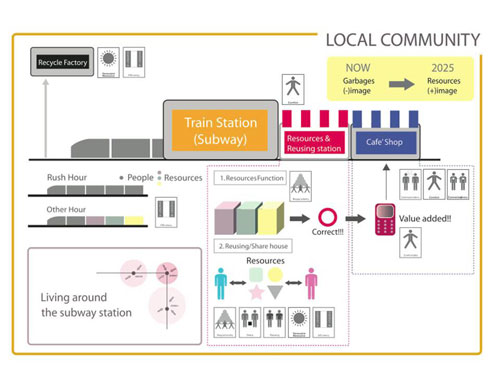 Sustainable garbage station for sustainable society

Member